<![if !vml]><![endif]>

South Jersey

Dachshund Club

<![if !vml]><![endif]>
<![if !vml]>

<![endif]>                                          <![if !vml]>

<![endif]>
See our YouTube Channel!
See us on <![if !vml]>

<![endif]>
For the fun and friendship of Dachshunds and the people they own
We are not about stuffy AKC required contests, earth dog, rescue, adoption, breeding or the advertising of puppies for sale.
We ARE all about the fun and appreciation of the low rider dogs…
<![if !vml]>

<![endif]>
Welcome to the South Jersey Dachshund Club
We are all about meeting Dachshund owners for fun
outings where 10 Dachshunds is just not enough!
It is and always will be free to join.
There are no dues, officers, or AKC papers needed.
We meet with other Dachshund owners and get together during the summer months for activities like walking in parades and barbeques with your doxies invited.
If this sounds like fun join us!
<![if !vml]>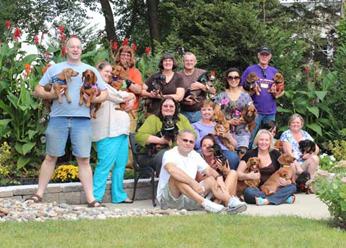 <![endif]>
A 2012 group barbeque in Gibbstown NJ with 18 Dachshunds!